Consumers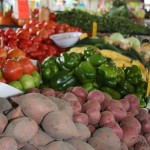 While farmers have implemented many steps to minimize the risk of pathogen contamination of fresh produce on the farm and in the marketplace, consumers must also take precautionary measures to ensure the safety of their meals from the field to the family table. These resources include tips for the kitchen, hand-washing guidelines and proper cooking and storage temperatures. Learn about the symptoms and treatment of foodborne illnesses as well as how to report a suspected foodborne illness.
The Spread of Superbugs
Nicholas Kristof's article featured in The New York Times looks at the presence of antibiotics within our food system. He notes that "more antibiotics are fed to livestock in North Carolina alone than are given to humans in the U.S."
Navigation
Health and Wellness
Educational Resources
Foodborne Illness
Was the information on this page helpful?