Small Station
Find this page at:
go.ncsu.edu/readext?283052
Rod Gurganus, formerly with N.C. State's Plants for Human Health Institute, and Dr. Gary Roberson, Extension specialist in N.C. State's Department of Biological and Agricultural Engineering, lead the effort to develop more functional, portable hand-washing stations for N.C. growers. They are developing two units (a larger and smaller version) with funding from the N.C. Rural Economic Development Center's Agricultural Advancement Consortium.
Grower feedback highlighted a need for a smaller hand-washing unit with less capacity that was easier to deploy and involved fewer costs than the larger commercial unit. Based on growers' input, design and construction began on a smaller unit. This unit was designed for use at farmers markets and should not be considered safe for highway travel. Construction costs will vary, as stations may be customized, but the facility featured on this page cost approximately $2,000 to construct, minus the trailer.
Read more about the larger hand-washing unit.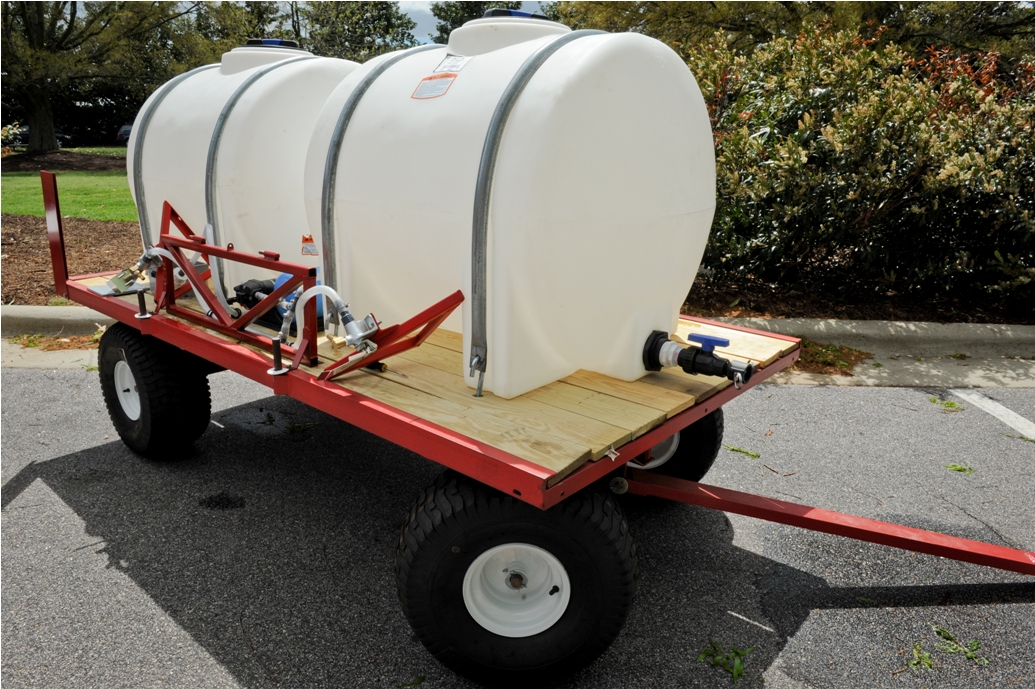 The trailer for the smaller hand-washing unit is more of a wagon style, which reduced costs and made it easier to deploy. The trailer is able to support two 125 gallon water tanks completely full. *One key difference with the smaller unit is that it is NOT intended for highway use.
Drain valves were added to the water tanks to make for easy purging. Growers should consider using dark/black tanks versus opaque/white tanks to reduce algae growth. Tanks could be painted black if needed.
PVC hoses are recommended for their flexibility, ease of installation and reduced risk of freezing.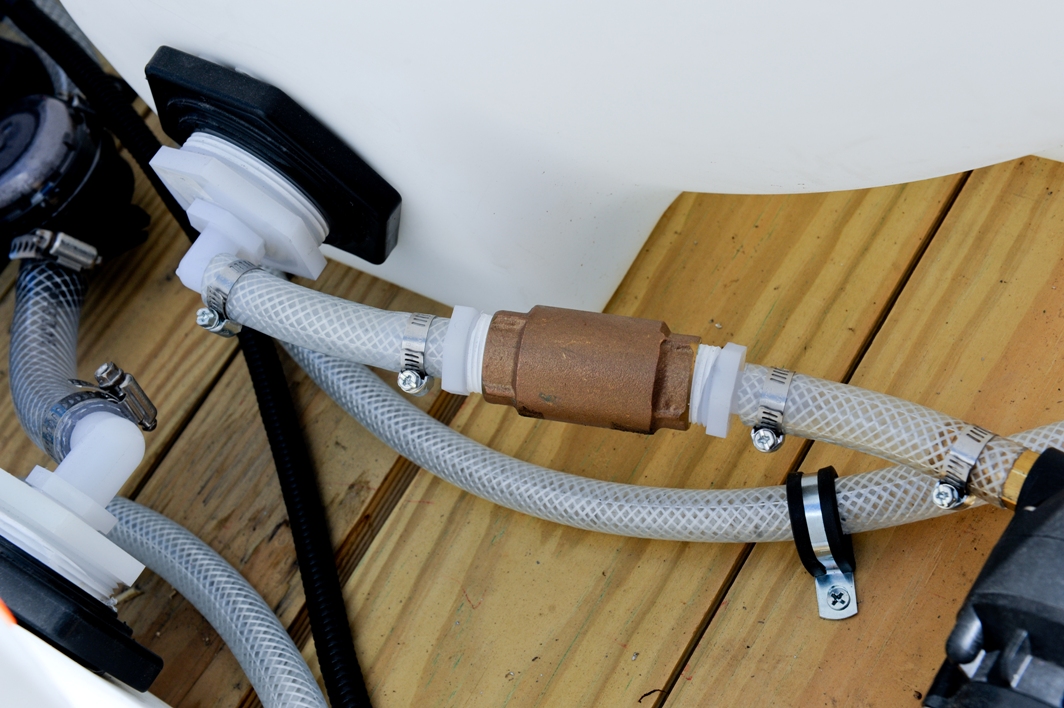 Install a check valve (brass-colored piece) to prevent dirty water from mixing with clean water via backflow.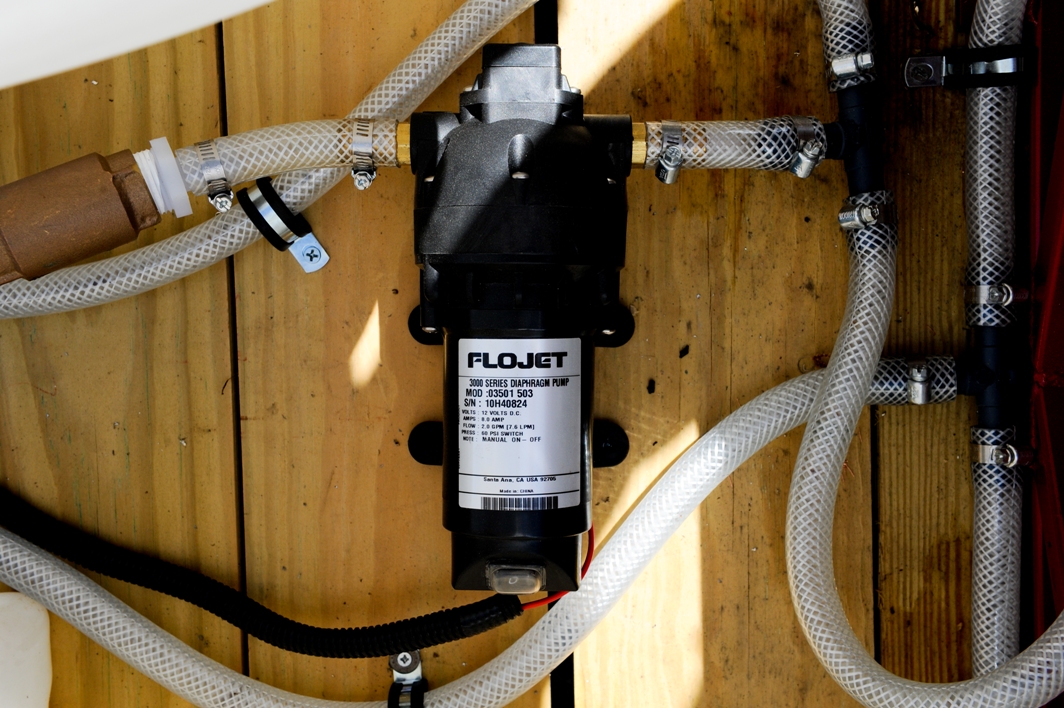 A 12V pump is used to operate the flow of water throughout the unit. The pump is small and portable, but make sure to get a pump with enough power to handle the number of wash stations on the unit. This particular unit contains four wash stations.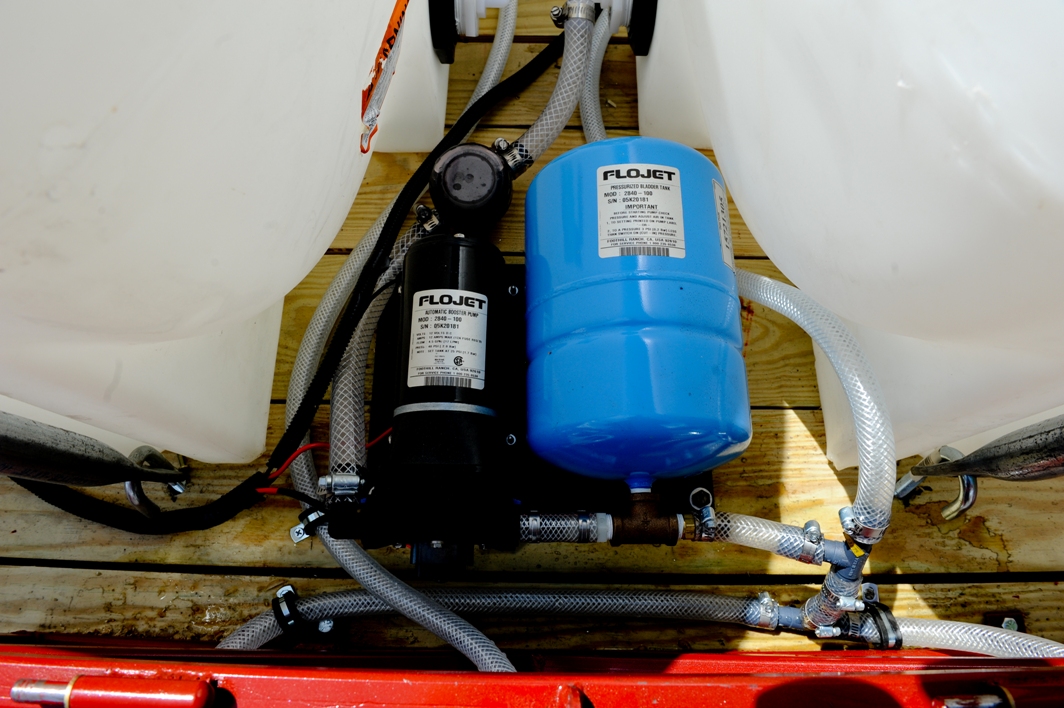 The pump has a built-in surge tank (blue), which optimizes the primary pump by absorbing changes in water pressure and maintaining a smooth flow of water.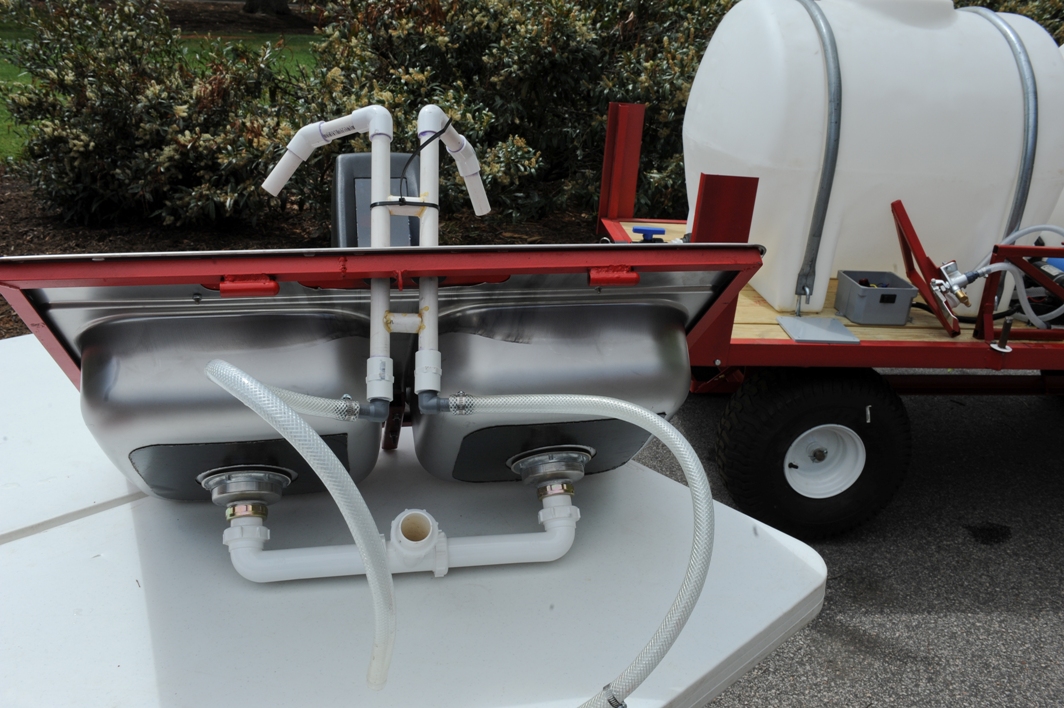 The sink mounts for the unit include custom-built frames and stainless steel sinks purchased from a retailer. PVC piping was used for the faucets and plumbing.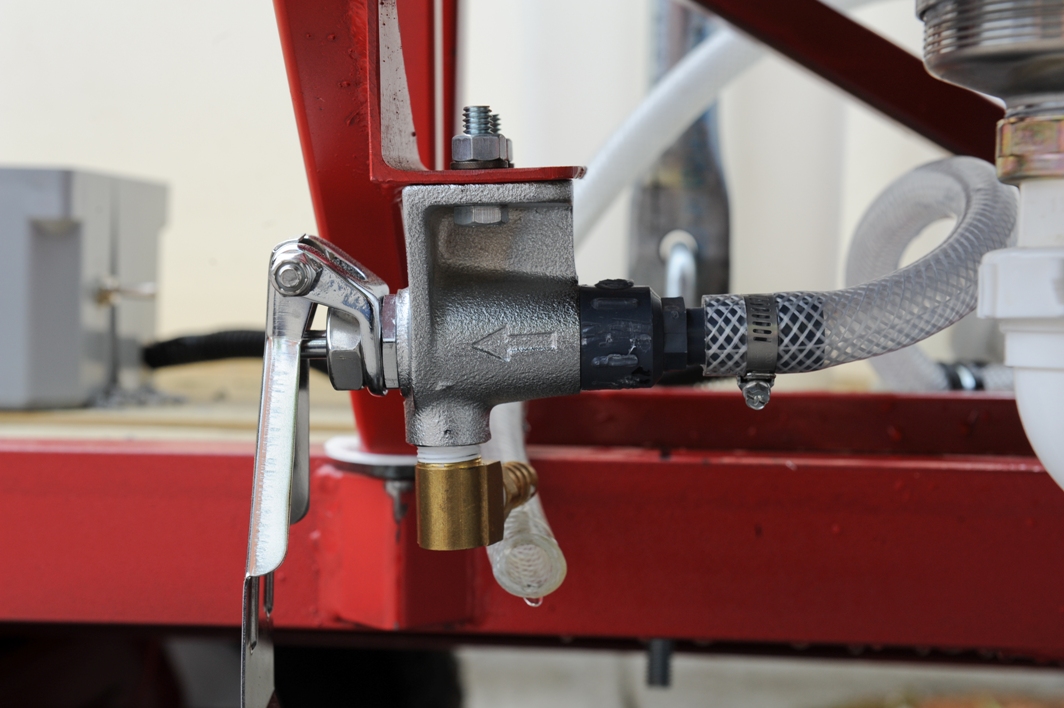 The sink is operated by knee valves that control the flow of water for washing hands when pressed with the leg/knee. The hands-free operation reduces the risk of contamination from touching traditional faucets with the hands.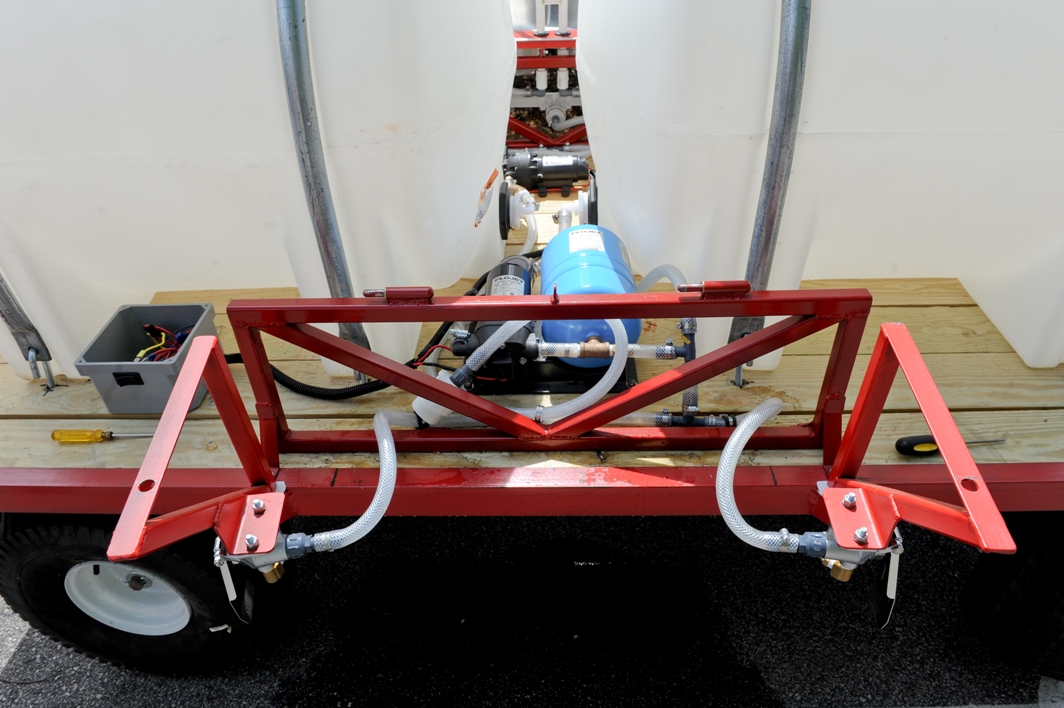 The water tanks, sink frame, knee valves, pump and electrical box are all installed and ready.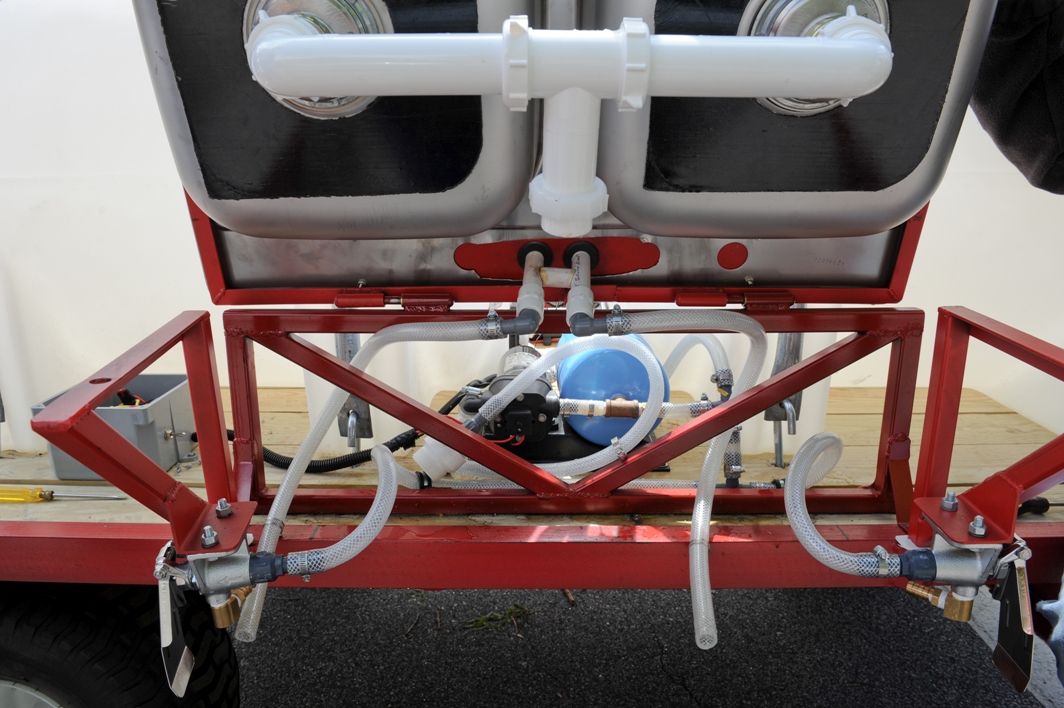 Once installed, the sinks can be folded up for easier transport and storage.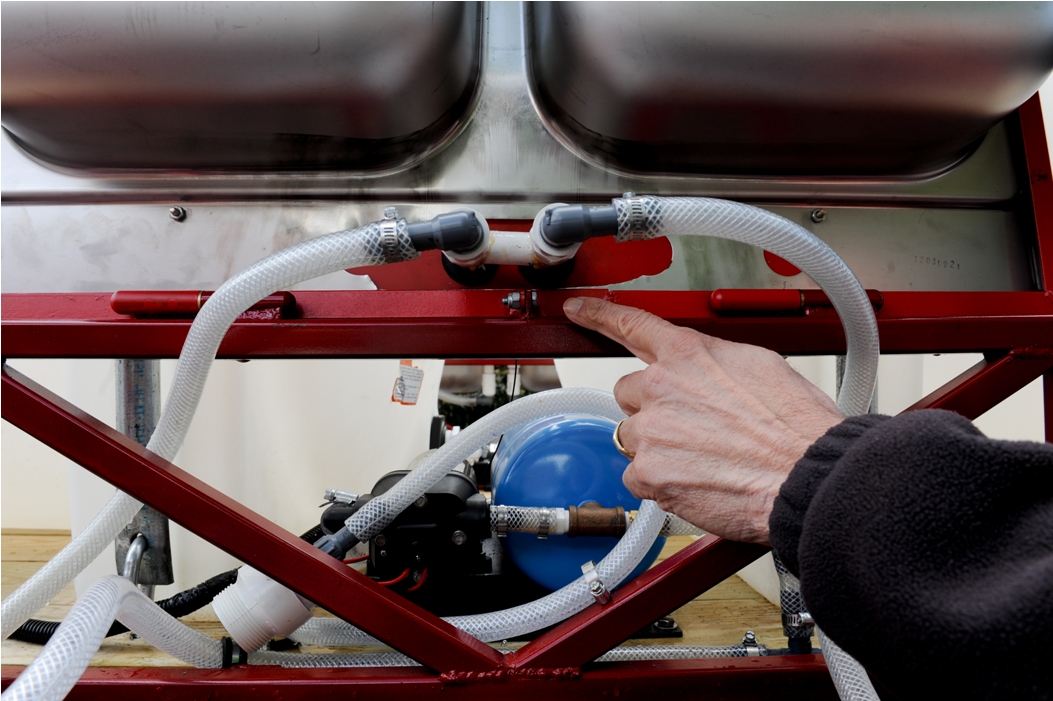 Choose and appropriate hinge for your frame/sink mount to allow for folding sinks.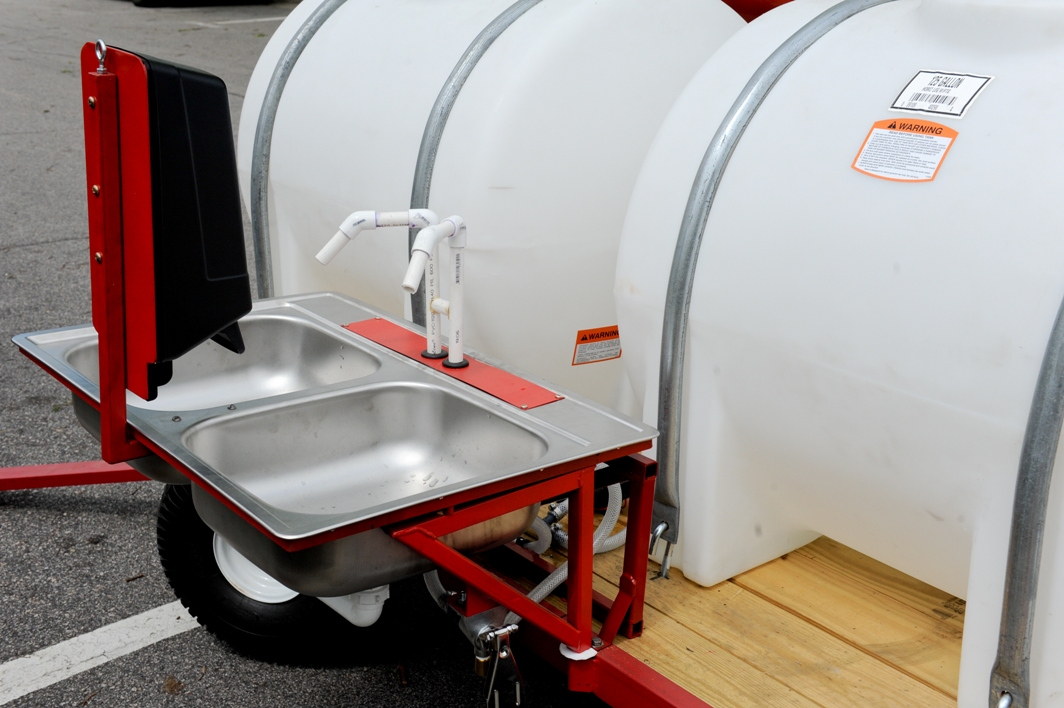 Soap dispensers can be securely attached to the sinks. Other potential items to include could be towel racks, waste receptacles and hand rails.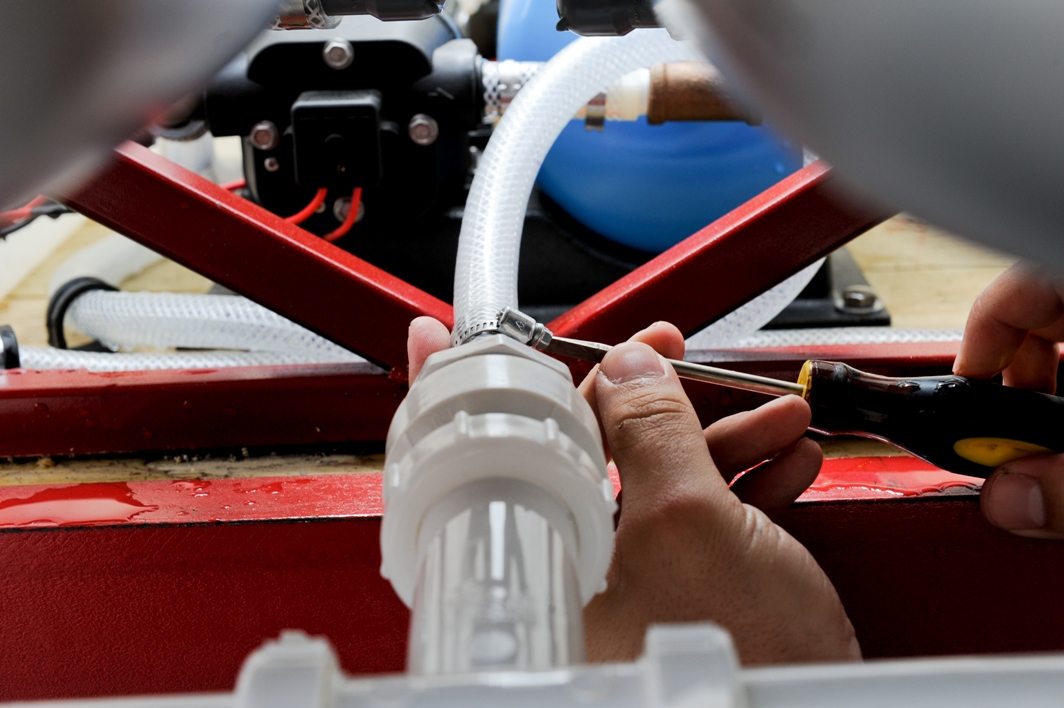 Secure all plumbing connections to prevent leaks and faulty equipment.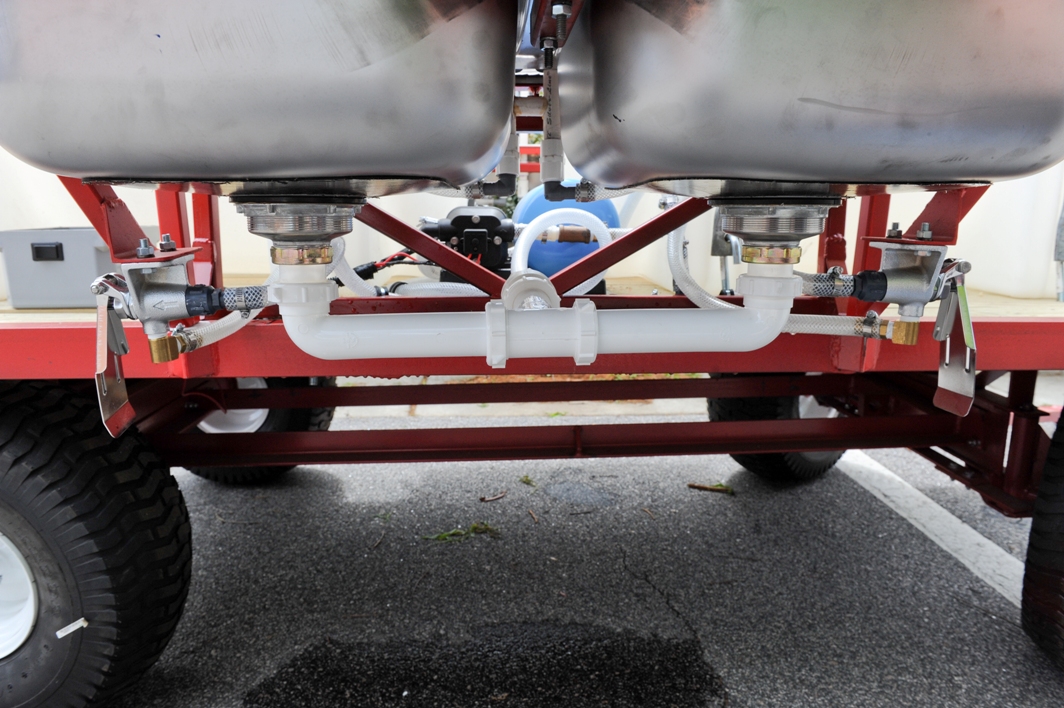 A completely installed sink as seen from below includes knee valves on either side and secure PVC plumbing for drainage to the drain tank.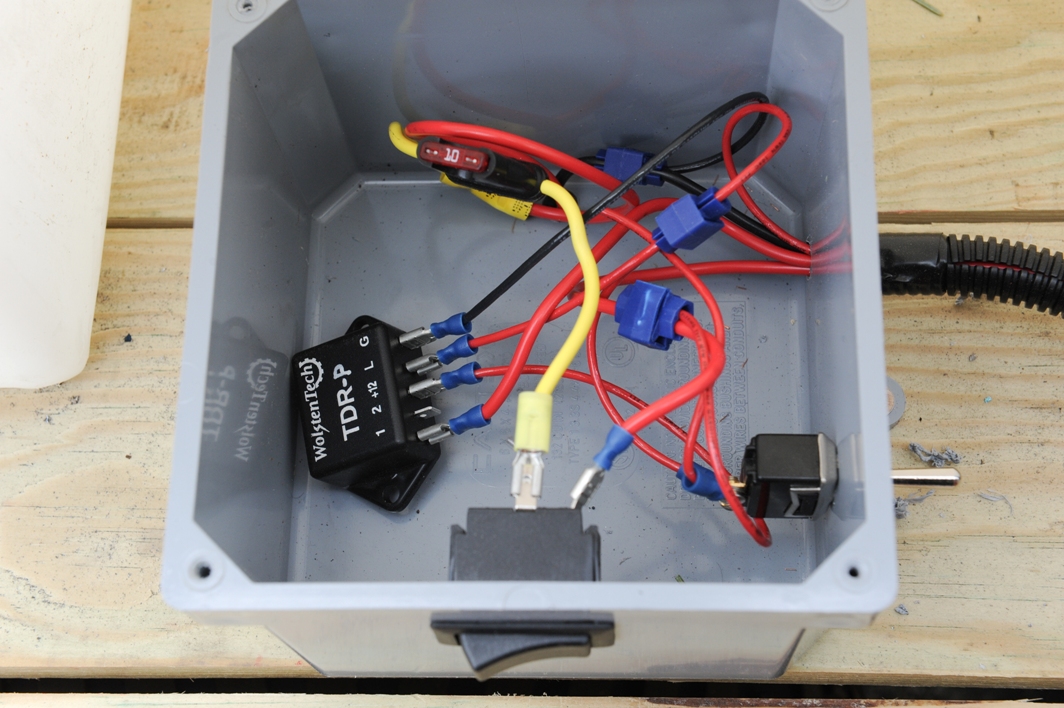 The electrical box contains a timer switch (black piece on left). Because the supply pump and drain pump need to run simultaneously, but at different intervals, the timer is needed to operate the drain pump.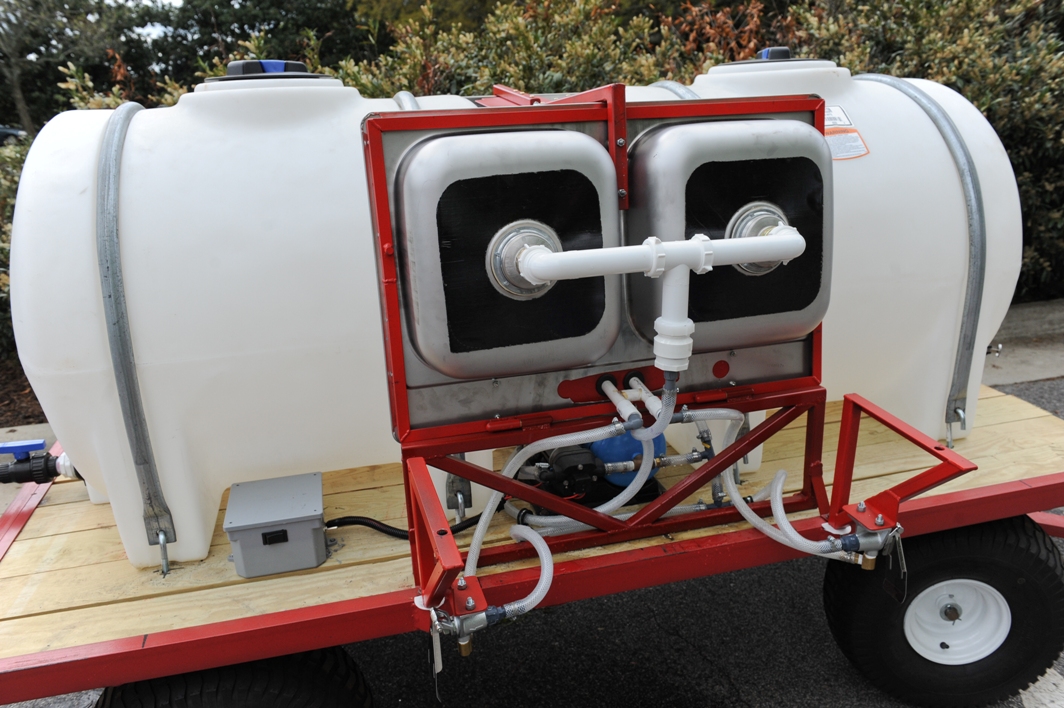 The foldaway sink design allows for soap dispensers to fit between the water tanks while the plumbing stays connected.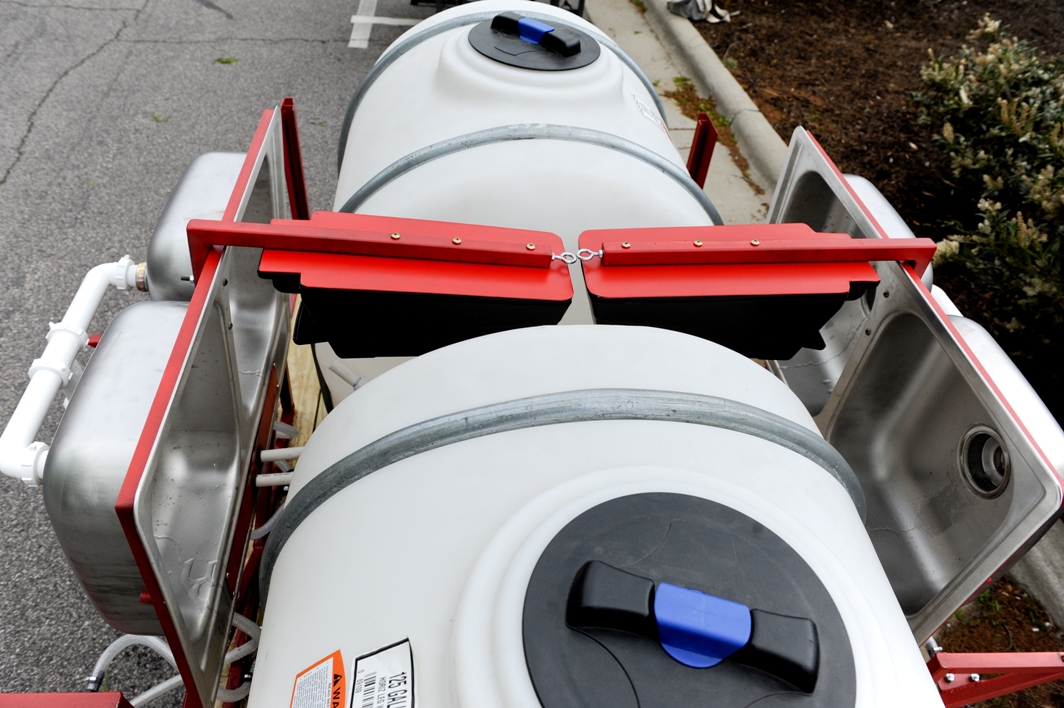 Overhead view of the foldaway sinks design shows how the soap dispensers can latch together at the top. This feature helps keep falling debris and other materials out of the sink when not in use.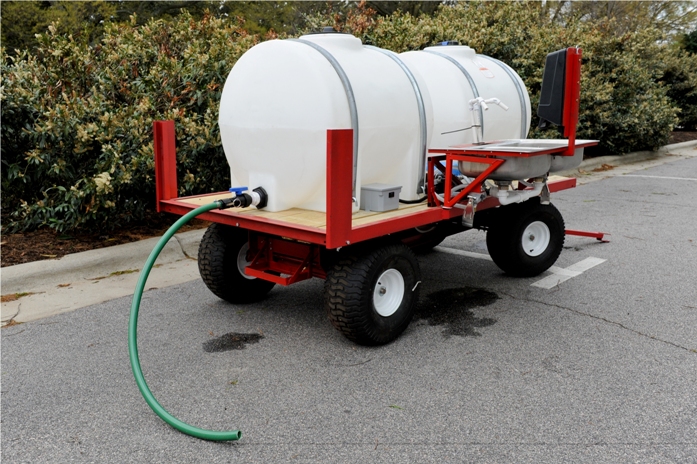 The completed hand-washing unit sits on the trailer ready for use. A few features to note:
The drainage hose (green) is connected/used only when emptying the tanks.
The draw bar/"tongue" at the front should be removed when parked to avoid injury.
A solar panel could be added to the electrical/battery box (gray box) – located near the front of the unit – for more efficient charging.*Check with your local government for guidelines on proper water disposal.
Disclaimer
Recommendations for the use of any construction materials are included on this website as a convenience to the reader. The use of brand names and any mention or listing of commercial products or services in this publication does not imply endorsement by North Carolina Cooperative Extension nor discrimination against similar products or services not mentioned. Individuals who use construction materials are responsible for ensuring that the intended use complies with current regulations and conforms to the product's intended purpose. Be sure to obtain current information about structural integrity and consult the retailer with questions about the strength of the equipment or compatible hardware. For additional assistance, contact your county Cooperative Extension agent.